So I finally caved in and ordered from
Chinovi
. I was not sure what colors to pick up, so I trued to get a little of everything. I had been looking for some good highlight colors and I have been really loving dark colors for liners and I have been trying to be less afraid of a dark crease color so dark colors it is too!
Cake pops - is an iridescent purple with turquoise sparkles
Superstar - is an iridescent gold and copper mix
Whisper - is a soft nude beige with golden sparkles
Cloud - is iridescent blue with purple shifts and blue sparkles
Nieces - is a peachy pink with a golden sheen
Princess - is a barbie pink with golden sparkles
Hiccup - is a golden purple with golden shimmer
Marquee - is a blackened purple taupe with a pink sheen
Fairy - is a dark periwinkle with purple and aqua sparkles
Troll - is a pale blue toned purple with aqua sparkles
Unicorn - is a deep inky purple with a blue cast and red sparkles
Monster - is a mid-toned purple with a faded royal blue cast and aqua sparkles
Secrets - is a rich red based purple with lots of blue sparkles
Candy Hearts - is a vibrant pink with a golden sheen and gold sparkles
Bubble - is a soft peachy pink with a purple/blue sheen
Goddess (free sample) - is a mid-tone golden brown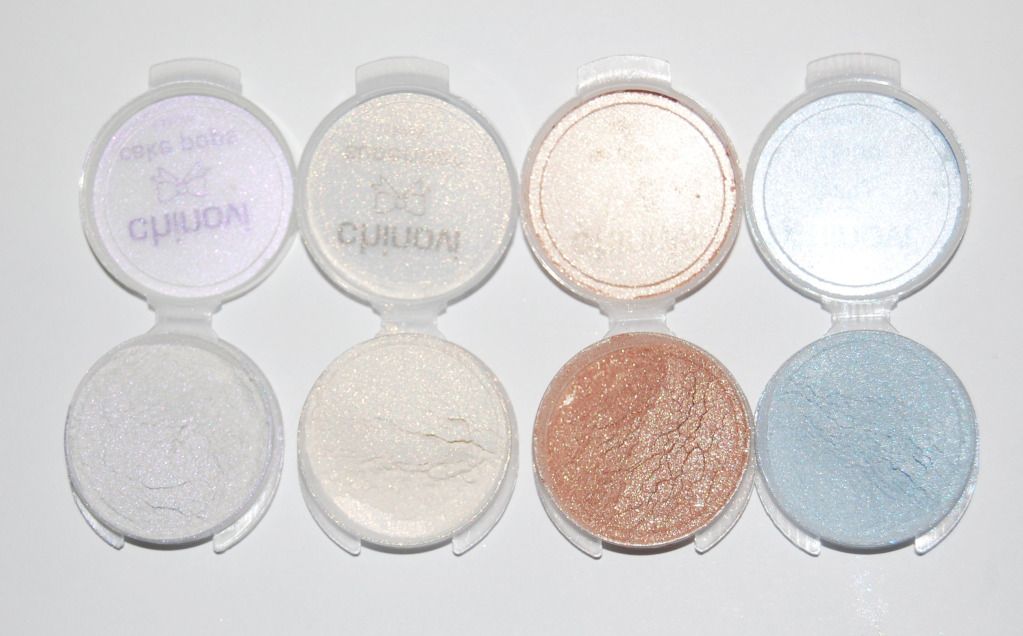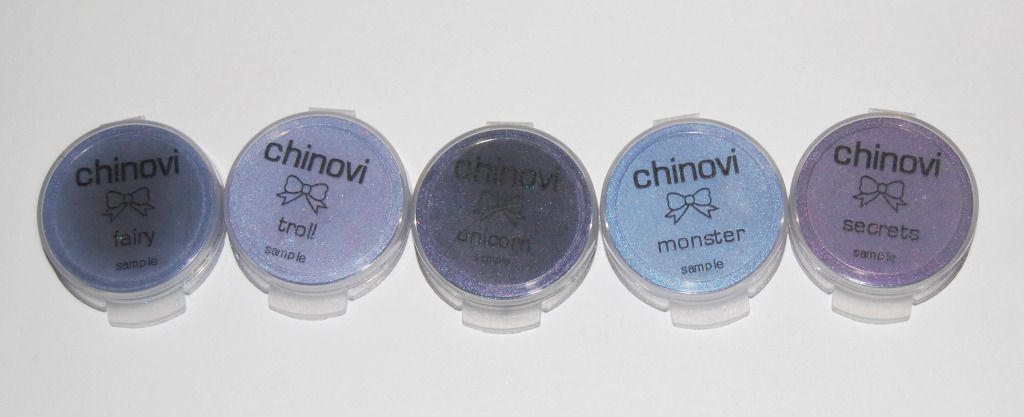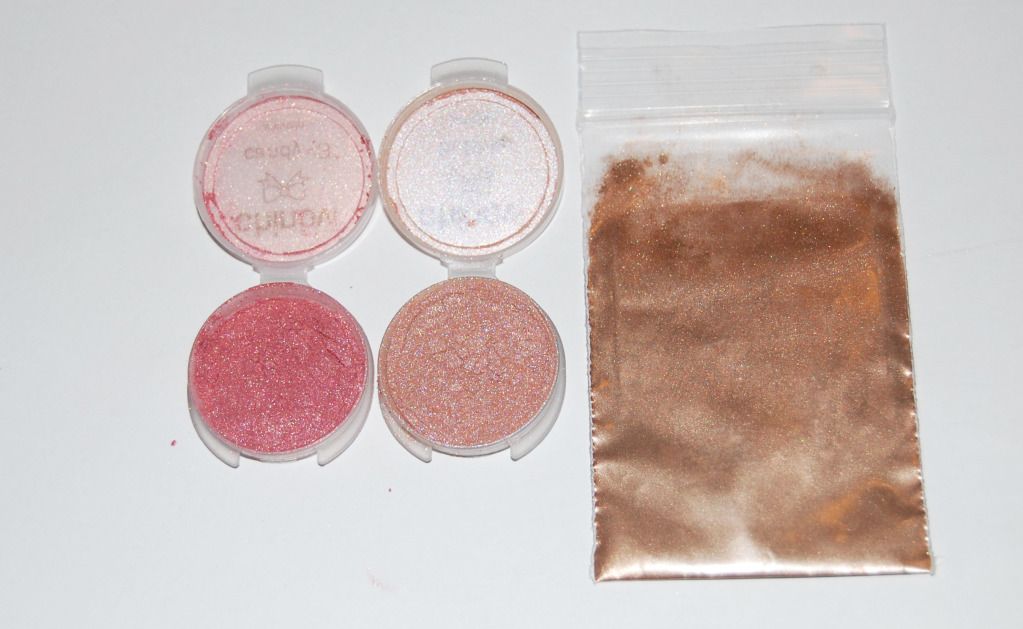 swatched over bare skin - no primer
Cake pops, Superstar, Whisper, Cloud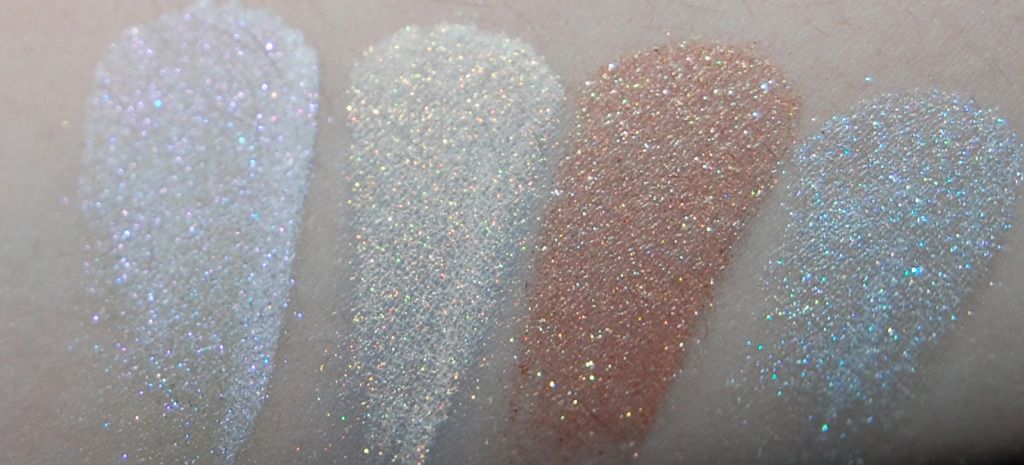 Cake pops, Superstar, Whisper, Cloud
Cake pops, Superstar, Whisper, Cloud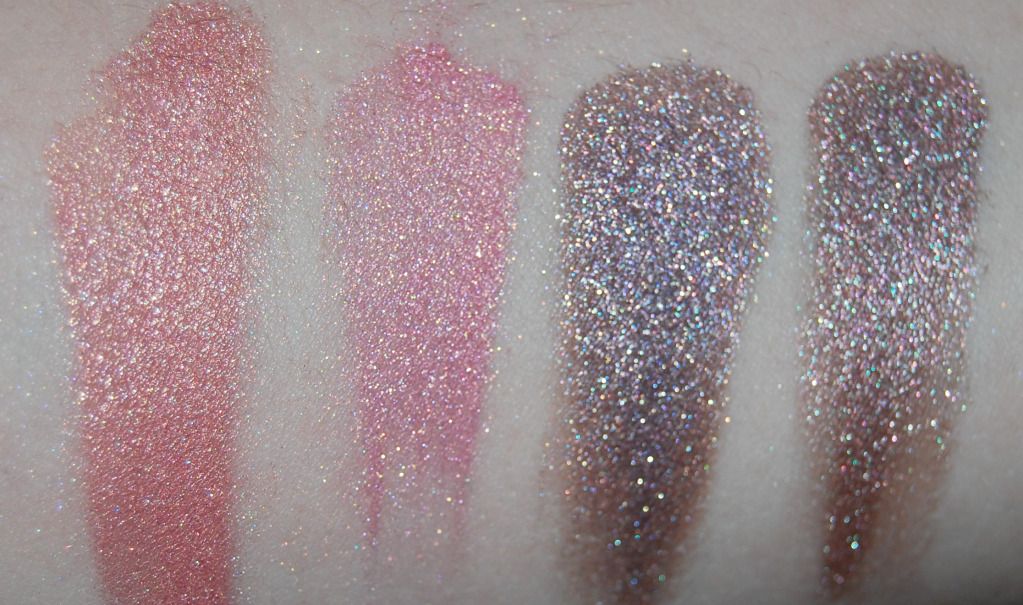 Nieces, Princess, Hiccup, Marquee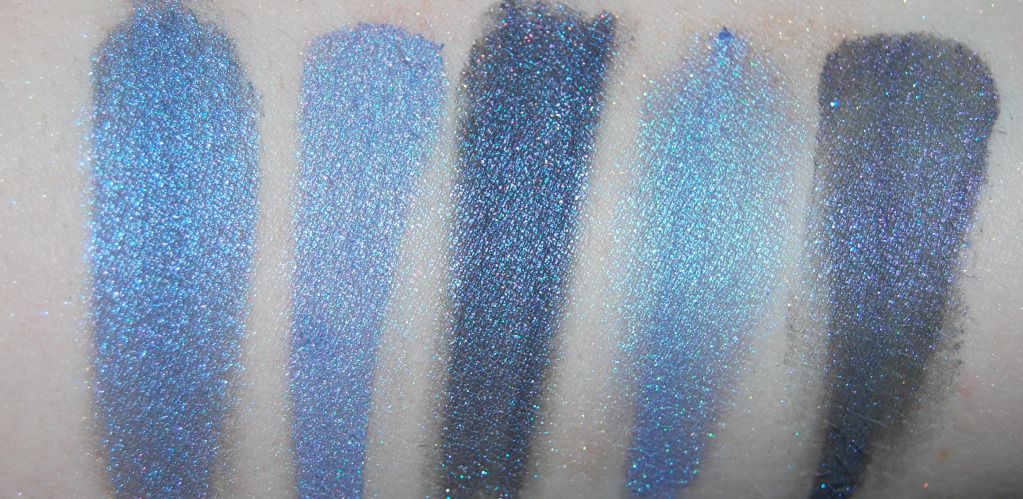 Fairy, Troll, Unicorn, Monster, Secrets
Candy <3, Bubble, Goddess
I was very pleasantly surprise with these eyeshadows and I cannot wait to play with them. I love cake pops. These photos cannot do it justice. I tried, but I just cannot seem to capture how pretty it is. The closest is actually the lid of the clamshell. So pretty! At first I overlooked superstar, but looking at the photos, this is also an amazing color. With a greyish base and buttery yellow sparkles I am in love. Nieces is a really pretty coral color. I have been trying to find the perfect coral eyeshadow and this may be it. Hiccup and Marquee look quite similar, maybe I didn't need them both. Bubbles is a very nice golden coral. I also really love unicorn and secrets. They are two very pretty dark sparkly purples! You must have these two. Actually you need all of the purples, blues, blurples that I ordered. They are very pretty and unique.

Everyday is an adventure.